Drama Free Teams Special Offer!
Lifetime Access for only $49.00!
About Dennis McIntee

Dennis McIntee (aka That Drama Free Guy) travels extensively working with leaders to uncover constraints and build roadmaps for growth to increase their bottom-line performance. As expert in creating drama-free teams, he assists leaders in leveraging their time and resources more effectively through strategic planning.   Learn More »
Creating Drama Free Teams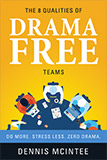 The 8 Qualities Of Drama Free Teams will give you the tools you need to accomplish more in less time. This practical handbook shows you 8 different leadership strategies you can use today to see immediate changes in your organization. You Don't Have To Tolerate The Drama »

Speaking
Every audience and event coordinator can count on a dynamic experience. Dennis is committed to delivering specific, actionable ideas to impact today's progressive leadership conferences, health care organizations, or sales meetings. Check My Availability »
Whether you are early in your marriage, a seasoned veteran, or a young couple just starting out, communication is one of those things that always needs work. During the holidays, relationships often experience strain from familial pressures, overbooked calendars, and...