M & A Source
April 26-29, 2020
About Dennis McIntee

Dennis McIntee (aka That Drama Free Guy) travels extensively working with leaders to uncover constraints and build roadmaps for growth to increase their bottom-line performance. As expert in creating drama-free teams, he assists leaders in leveraging their time and resources more effectively through strategic planning.   Learn More »
Creating Drama Free Teams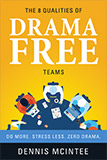 The 8 Qualities Of Drama Free Teams will give you the tools you need to accomplish more in less time. This practical handbook shows you 8 different leadership strategies you can use today to see immediate changes in your organization. You Don't Have To Tolerate The Drama »

Speaking
Every audience and event coordinator can count on a dynamic experience. Dennis is committed to delivering specific, actionable ideas to impact today's progressive leadership conferences, health care organizations, or sales meetings. Check My Availability »
After the latest series of COVID variants, labor shortages, and weather-related closures, that work from home virtual life is getting a little more permanent for many. Looking back two years ago, it is hard to fathom we would be entering 2022 with the topic of maximizing productivity from home still on the forefront of conversation.
However, the converging of a new year and an extension of the work-from-home culture meant an opportunity to revisit a topic first discussed on our Drama Free Living podcast a few months ago.
Updates from Dennis
Receive free resources and tools to help make you and your great company get even better!